The outdoors are a huge part of Australian culture, especially in the summer when we spend so much time enjoying the warm weather and sunshine.
It should come as no surprise with some rather telling statistics
Only 1% of homeowners have no outdoor space
80% of Australian homes have a backyard
44% of Australian homeowners are planning a makeover in the next 12 months
With the summer months quickly approaching, there are several ways to make more of your outdoor space and spend more time enjoying the outdoors and entertaining this summer.
Install a pool or spa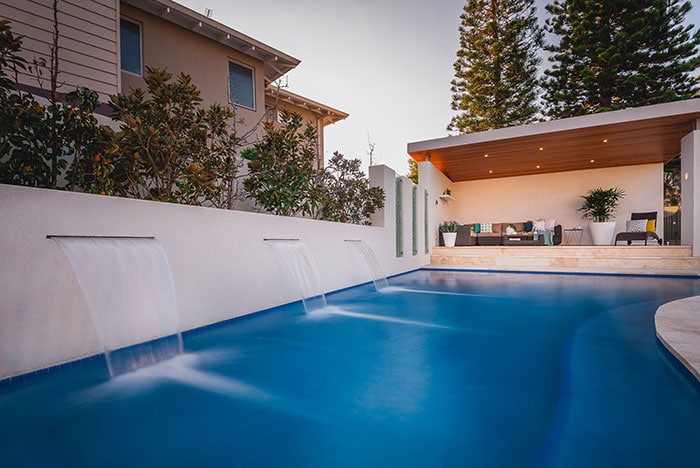 The backyard swimming pool is a part of our culture.With summers getting warmer and regularly surpassing the 40-degree mark it's no surprise that almost 1 in 5 Perth residents live in a house with a pool, a ratio which is well above the national average.
A spa out on the deck is a necessity for a relaxing soak at the end of the day.Just remember you'll also need extra room for walking around the tub and that a full spa may weigh close to 2,000kgs, which will require a solid foundation.
Pools and spas increase the amount time people spend in their existing outdoor spaces, especially for families with children over the age of 6. Adding a pool or spa is also a great way to add value to your home.
Add decking
Make your deck a weekend destination for relaxing with your friends and family. On its own, a deck is a great place to entertain, but there are a couple of ways to maximise your use.
Establish several different areas for dining, conversation, and other activities to allow different groups to use the space.
Install a fire pit to create a focal point for roasting marshmallows.
Add a deck garden with lightweight fiberglass pots of herbs, vegetables, and flowers. Creating a deck garden is a relatively inexpensive way to add to your deck and incentivise yourself to spend more time outdoors.
Create an outdoor kitchen and lounge area
If you BBQ through the warmer months and you love eating outdoors, an outdoor kitchen is a must.
You don't need a fancy grill, but you can enhance your outdoor area by tucking a kitchen or dining nook outside with a serving bench, extra storage, and a sink.
When it comes to furnishing, you have a variety of different materials and furnishings to choose from, many of which are designed to be water-resistant and provide longevity for seating arrangements.
Install a patio or gazebo
A patio can be a hotbox, or it can be a comfortable seasonal room to draw you out of the house and spend time reading or enjoying your outdoor space. A gazebo adds another level of luxury by creating a large backyard entertainment area where guests can enjoy the shade or set up a dining table. It can also be used to;
Define activity zones
To create focal points
Separate areas according to function
Provide transitions from one area to another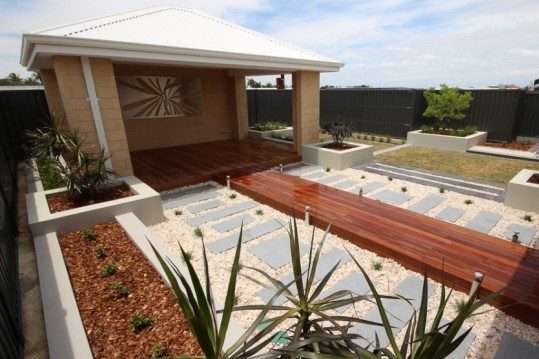 Improve privacy
High fences and garden walls can ensure privacy, but you can also use lattice, pergolas, or landscaping with trees and shrubs to define outdoor spaces.
Having a private outdoor space will encourage you to spend more time outdoors in the sun during the summer months, even if you are crowded in by your neighbours.
Improving the privacy will help you feel more comfortable and at home in your backyard, sheilding you from neighbours or the street and keeping you shielded from the harsh sun.
Create spaces for activities such as reading, sunbathing, or meditation to enhance your privacy without barricading yourself in.
What's next?
Use these landscaping ideas for design inspiration and make sure you make the most of your garden and outdoor area over the Australian summer. Whatever your ideal back garden looks like, Revell Landscaping in Perth can help create your perfect outdoor oasis landscape. Contact us today to get a free quote or learn more.