If your car is parked outside your home, exposed to the elements while what might have been a garage is now your store-room or workshop, your car is at greater risk of being broken into, and when rainy weather strikes, you're set to get wet every time you need a ride.
Why not look into the simple, safe and stylish solution of having a carport installed? There are a handful of carport and shelter ideas that are easy to design and install and Revell Landscaping is here to help. Here we break down what you need to know when considering a carport.
Benefits of constructing a carport
Carports can be designed and tailored to suit your specific needs – they can fit in the space you have available, be fixed to the perfect height (particularly for SUV's or 4-WD vehicles, which with roof-racks frequently require a higher ceiling clearance) and can be made to cover as many cars as you have!
The added bonus of a carport is it can also double as an outdoor entertaining or patio space that's protected from bad weather, giving you another reason for outside.
Materials, design and reputable fabricators
Carports are not a one-size-fits-all design for size, colour, or shape; you can base your new product plans on budget, number of cars or multi use capabilities. The aesthetics of your carport are as limited as your imagination. While in the past they may have been basic and boring with little allowance for special requirements, today there are far more materials to choose from, and design possibilities available.
Work with a reputable company that uses high quality materials, has experience in construction and offers variety of designs. The best carport builders will furnish you a long-lasting carport that is a perfect fit for your needs.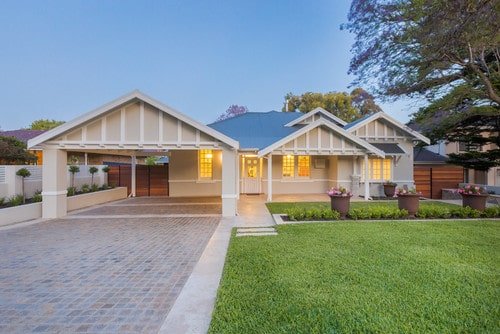 Don't underestimate the value to your home
Beyond giving you a place to park and protect your vehicle, even an entry-level carport will undoubtedly add value to your house. The designer can perfectly style it to suit your existing house structure and design, adding an additional buffer for weather, an added sense of security and room for storage.
All of these things combine to increase your home's market value, so what may have first seemed like an expense is in fact an investment. Also, your vehicle will deteriorate at a far slower rate when under cover and protected from Australia's weather or accidents that could result in an insurance claim.
Primary materials for carport construction
When selecting your carport, be it prebuilt or custom designed, you will have options for both the appearance and the materials. Most carports are made from a combination of aluminium and steel, with a concave roof.
However, you can have your carport constructed from brick and tile, Colorbond, wood, or a combination of wood and metal to match the particular aesthetics of your home and surrounds.  If you are handy and keen to embark on a DIY carport building project, you can purchase a carport kit that contains everything you'll need to erect a functional canopy or portable free-standing carport for minimal cost outlay.
Space, climate, and roofing considerations
As far as design goes, there really is no limit to how your carport can look. Most carports are open-sided, with supporting posts on each side and a wider area to pull in and out of when coming or going. However, carports can also be attached to your home or enclosed with roller doors or shutters as a free-standing garage. Think about the weather and climate, and your lifestyle when deciding which type of carport is best suited for your home.
Depending on the design of your home, your carport's roof can be made to seamlessly fit the flow of your house; for example, a split-level roof can be designed as can an angled roof to complement your home's architecture. Working with a professional outfitter will enable you to add a quality carport that looks like a well-fitting, natural extension of your home.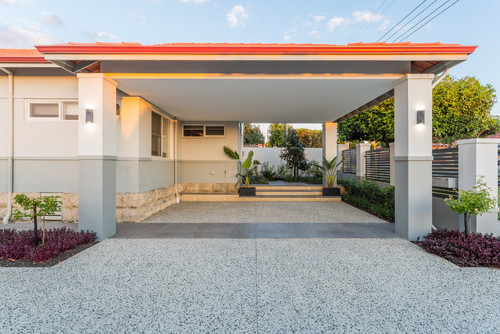 Colour choices to complement your home
No need to fear being stuck with a garish-looking building you'd prefer to have hidden away – colours can also be chosen to complement your existing house colours.
Beyond the design, you can also custom create your carport's size so you can house multiple cars and even camper trailers, boats, recreational vehicles (RVs), and lawn equipment!
If you are considering a carport, it's really easy to arrange for one that will perfectly match the look of your home while simultaneously delivering the best kind of functionality too.
Want to get a custom carport designed and built for your home? Get in touch with Revell Landscaping for a free quote and to discuss our Perth landscaping services today.