When you think about your house and property, you want it to be a place of beauty with a welcoming ambience. To create that place of welcome and beauty, you need to implement strategic landscape design to suit your home and climate.
However, to get the best landscaping, you must start by first thinking about your home:
Where is your home situated on the lot?
How does the driveway divide the front yard?
What and where are the views you want to highlight?
What are the views you want to de-emphasise?
The main goal of good landscaping is making it look natural in its surroundings, not staged.
But how can you make this happen? Here are a number of specific things you can do to create the perfect landscape.
Plan First
First things first: you need to create a landscape design.
Some landscapes resemble a collection of random and haphazard plants. These "non-designs" can become liabilities in terms of pest treatments or non-stop pruning.
It is better to have an overall design written out as a guide to your landscape project.
Any design plan must consider the following:
How you will access the equipment necessary to create and maintain the landscape
How you will use landscaping to create focal points on your property
The different ways you'll accent your house with foliage
How plants will look together, both when in bloom and during the off-season
The amount of overall maintenance that will be required
It is also important to think about the order you will complete your projects in. As the diy Network notes:
"Do all of your hardscaping projects before you set out any plants. Hardscaping can include a porch, sidewalk, driveway, parking areas, decks, fencing, patios and arbour. These projects usually involve construction, which can compact your soil or damage turf and plantings, so it's important to complete any heavy work before plantings begin."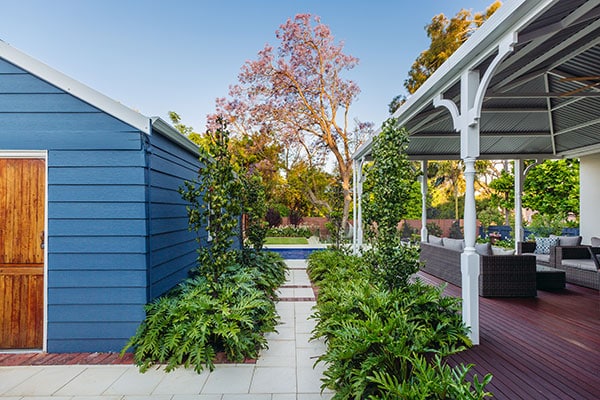 The Do's of Landscaping
Once you've created a general plan, consider implementing these specific steps to create a beautiful, eye-catching landscape.
Find a Vertical Point – Columns, porches, and front entries look great with plants or ornamentals.
Pay Attention to Light–Use natural light to strategically arrange plants based on their needs. By using artificial lighting, you can make soft pools of brightness at sunset.
Utilize Differences in Texture – Put coarse foliage plants next to those with fine foliage to create juxtapositions of texture.
Mix Plant Shapes – Use strong, distinct, and varied plant shapes to add variety to your landscape.
Play With Proportions – Don't use trees or plants to hide your house. Rather, use their smaller proportion to frame your house.
Keep It Reasonable – Don't build anything too large or too small for your expected use. Also, don't build anything that will require a huge amount of maintenance if you're not willing to put in the work or hire someone to do so.
Look Beyond Plants – A beautiful landscape involves both plants and Add a pergola, trellis, or arbour to provide visual interest.
Create Symmetry – By creating a balanced, symmetrical look, you can create a sense of calm.
Play With Contrasts – Dramatic contrasts in colour, size, and shape can bring life and interest to your landscape.
Go Bold WithColor – Use different colours to create specific feelings within your landscape – bright for excitement, cool for calm.
Stay on Top of Maintenance
To keep a landscape beautiful, you must be vigilant about maintenance. Water your new plants and treat them to some mulch. Mulch has two purposes: it makes a landscape look finished, and it helps soil retain water. Enjoy your landscape as you tend to it! The areas outside the home are an extension of the home. Beautiful and functional landscapes increase curb appeal and value.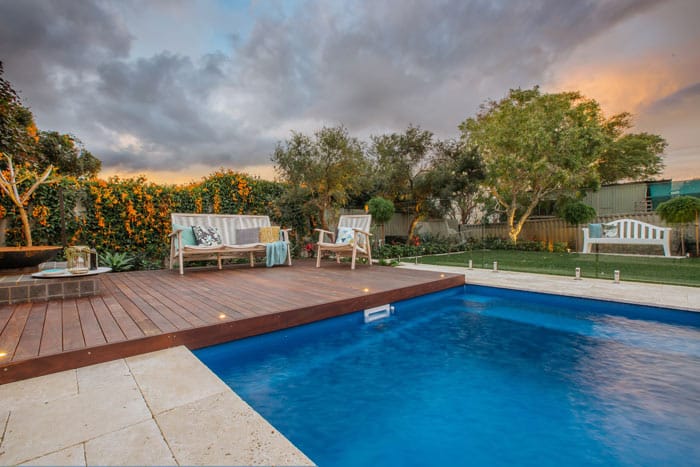 Conclusion: Express Yourself
Gardens and landscaping are personal and individual expressions; it's hard for anyone to say there is one right way or one wrong way to create a beautiful landscape.
What is important is that you create a design that expresses who you are. If you plan appropriately and follow the key principles of landscape design, you can create a space that you absolutely love.
Want some help getting started with the perfect landscaping for your Perth home?  View our project gallery now to get inspired. Get in touch with Revell Landscaping to get a landscaping quote today!